Adirondack Inn Contact Info & Directions
Contact Us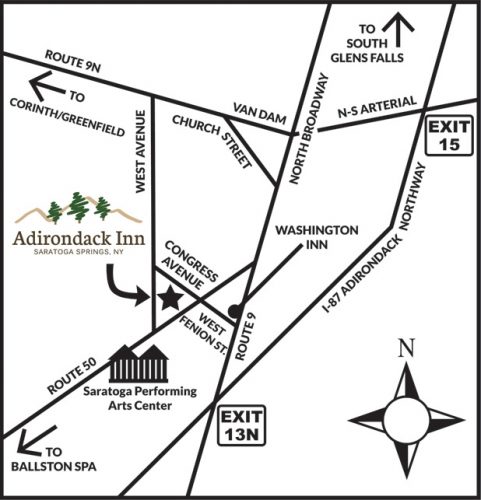 Address: 230 West Avenue Saratoga Springs, NY 12866
Phone: 518-584-3510 Fax: 518-584-7010
If you are looking to make a reservation please call 518-584-3510 or book online.
Our Address
The Adirondack Inn is conveniently located at 230 West Avenue Saratoga Springs, NY 12866.
Driving Directions to The Adirondack Inn
From the South:
Take Exit 13 North from I-87 North and merge onto US Route 9N for 3.3 miles. Turn left onto W. Fenlon St., continue for .3 miles until you cross over Ballston Avenue onto New St. Continue for .2 miles onto Congress Avenue, continue for another .2 miles and turn left onto West Avenue.
From the North:
Take Exit 15 from I-87 South and continue 1.5 miles on US Route 9N. Continue on to NY-29 Truck W/NY-50 S. for approximately 1 mile. Turn left onto West Avenue, continue 1.1 miles.